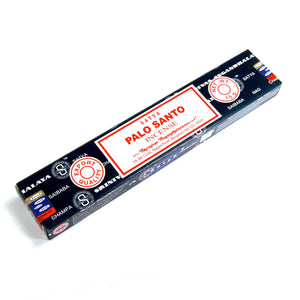 ❤︎ Follow us on Instagram to keep updated on sales and have first dibs on new products @CasparCuriosities ❤︎

One 15 gram box of Satya Palo Santo scented incense sticks. These are handmade in India using the finest ingredients and each box contains approximately 12-15 sticks.

Palo Santo literally means "Sacred Wood" OR "Holy Wood" and is burned for its cleansing properties. It is said to connect you with respect for Nature and Mother Earth because of the process in which it is collected. The branches need to die naturally and season for some time before the essential oils are released and matured to their full capacity. Because of this, the collection of Palo Santo is regulated to to the natural windfalls from the living tree. The scent of this Holy Wood is spicy and attractive and unlike anything else on Earth.